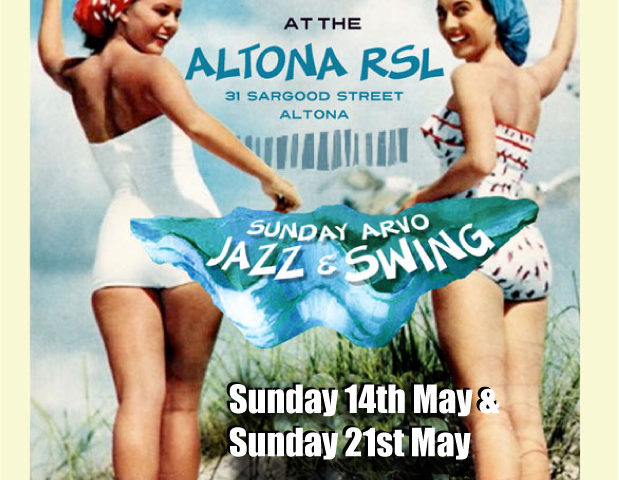 Back by popular demand! A mini  sunday arvo Jazz and Swingfestival by the Bay, 2 weeks in a row  at the Altona RSL!
With fab guests Yvette Johansson ( May 14th ) and Julie O'Hara ( May 21st)
Cheap drinks and a good dance floor. Food at RSL prices or fish and chips by the pier. 4.30-7.30pm $15 at the door. Presented by the good people at the Williamstown Jazz club
………………………….
Other gigs!
DATE: APRIL 23, 2017
TIME: 17:00
LOCATION: 225 NICHOLSON ST, BRUNSWICK EAST PHONE: (03) 9380 1752
VENUE: PS HOT 5 AT THE LOMOND HOTEL
The Lomond Hotel gigs are great, they are music lovers down there and they don't mind a beer and a dance either!
……………………………………………………………………
The "Steve and Dai" PS Hot 2 duo continue to rock Claypots, St Kilda on sat nights (when we are not playing privately elsewhere!)
"Just an ol piano and a doghouse bass"seems to do the trick!
Jukebox Jones on piano and guitar, myself on double bass playing Boogie boogie, Swing and Blues. Claypots
DATE: APRIL 22 and 29th, May 13th 2017
TIME: 21:00
LOCATION: 213 BARKLY ST – ST KILDA
VENUE: STEVE AND DAI DUO @ RUBYGILS
see yous on the dance floor
cheers steve p