Over more than 15 years, The Pearly Shells have gained a reputation as Melbourne's premier Jazz/Swing/RnB band with a classic style and look reminiscent of the Golden Age of  Basie, Goodman, Ellington and Brother Ray Charles.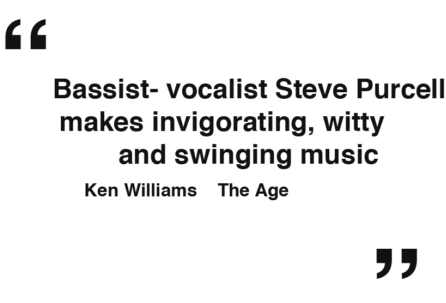 Famous for their Swingin' back beat sound and Hollywood style, luminescent clam-shell stands, The Pearlys have been providing atmospheric sound tracks and irresistible dance grooves in bars, clubs, festivals and dancehalls as well as at parties, receptions and other "doos" uncountable.
With their enormous repertoire and variety of band sizes, The Pearly Shells pride themselves on striking the right tone for any musical situation.
The P.S. Trio

Piano, guitar, double bass makes a swinging, sophisticated and atmospheric sound. This Nat King Cole type line-up is popular at openings, cocktail parties, launches and more intimate weddings. Swap the piano for a horn and this combo can be mobile and un-plugged.
The Pearly Shells Quartet and Hot Five       

The engine room of the band. The Pearlys Quartet consists of  double bass, drums, guitar and a horn (Sax or Trumpet). In the Pearly Shells Hot 5 we add piano (or sometimes a 2nd horn). These are our most popular line-ups for averaged sized weddings, parties and other "doos". The Quartet is also the line-up to be most often seen playing bars around Melbourne Town.
The Pearly Shells  Hot Seven

With a 3 piece Horn section and full rhythm section (double bass, Guitar , piano and drums), the Hot 7 is the band of choice when people are after that Swingin Big Band sound but are short on space or budget.
The Pearly Shells Swing Orchestra    

Our ten piece orchestra consists of 3 saxophones, 2 trumpets, trombone, piano, guitar, double bass and drums.

Glamour from the word go. The Pearly Shells Swing orchestra is our showpiece "little big band" for corporate and society functions, conferences, festivals, dinner dances and larger parties. This bands ability to "go off" has made them the band of choice among Melbourne's swing dancers.
Guest Vocalists

The Pearly Shells are proud to perform with some of finest female and male vocalists in Australia, including :

Jazz Diva Yvette Johansson
International "It Girl" Hetty Kate
Swing Siren Julie O'Hara
the Queen of the Blues Kerri Simpson
Los Vegas Rod Gilbert
Good rockin' Emma Franz
Broadway Bob Valentine

Pending availability, we can organise one of these great singers as guest vocalist with any of the Pearly Shells line-ups.

For more infö on prices and availability , please us the contact form at the top of each page